EARTH DAY ACTIVITIES : TO INSPIRE YOUR STUDENTS AND MAKE A DIFFERENCE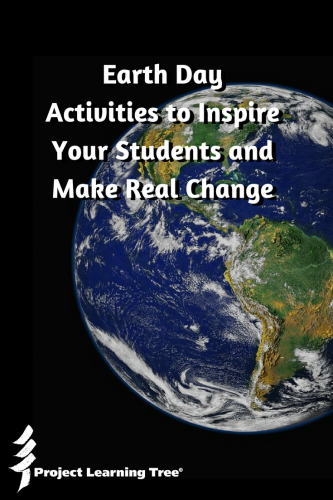 By celebrating Earth Day, you're part of a community of over 1 billion people who take part in this holiday every year.
Earth Day is about raising awareness about the importance of protecting our planet and taking action. The first Earth Day came about after a U.S. Senator from Wisconsin, Gaylord Nelson, saw the devastating impact of a massive oil spill in Santa Barbara, California. Not willing to sit on the sidelines anymore, Senator Nelson organized a national "teach in" to educate and inspire people to protect the environment.
Since the first Earth Day was celebrated in 1970, it has generated public support for the Environmental Protection Agency, as well as environmental laws such as the Clean Air Act, the Water Quality Improvement Act, and the Endangered Species Act.
Here's a quick (3-minute) introduction to how Earth Day started and the impact it's had:
Earth Day 2020
April 22, 2020 marks the 50th anniversary of Earth Day. Amid the recent COVID-19 global pandemic, Earth Day 2020 has gone digital. Learn what you can do this year to celebrate the First Digital Earth Day.
One simple way teachers and parents can observe Earth Day is to take children on a nature walk, whether that's in your backyard, at a local park, on a nearby forest trail, or on school grounds, depending on what's accessible in your area at this time. Doing a nature walk is not only about celebrating Earth Day. It's also an opportunity for learning experiences in a variety of subjects such as science, geography, math, and art.
Even though Earth Day has a rich history, many people associate it with recycling. You'll probably find a lot of Earth Day activities for the classroom that focus on just that. This can be a great starting point, especially because it's an action students, schools, and families can do right away. If you want to incorporate activities on recycling in your Earth Day lesson plan.
Since there are so many resources about recycling already available, we will explore a few different kinds of activities you could add to your lesson plan.
Young students can, and do, make a big difference. As an educator, you have the opportunity to spark a passion in students that will drive them to do their part to take care of the Earth. Here are a few ways you can inspire your students this Earth Day:
Make a pledge and a plan to take action
Writing down a commitment and making a plan are two actions that increase the likelihood that someone will follow through. So if you want those Earth Day lessons to stick, this is an easy activity to do with students of any age. This is a great way to incorporate an art project with a writing prompt.
Earth Day Activities : for Kids
HOW DO WE CELEBRATE EARTH DAY FOR KIDS?
Celebrate Earth Day with fun hands-on learning for young kids that you can also use any time of the year. From simple bug hotels to homemade seed bombs to pollution discussions, these Earth Day projects are excellent for teaching kids about the conservation and protection of our planet.
Earth Day Activity : IDEAS
Here are a list of great questions to ask kids when preparing for Earth Day. Asking questions without giving the answer right away is a great way to find out what kids already know, and their thoughts and feelings.
What can you recycle?
What can you do around the house to conserve energy?
What do plants do for us and the Earth?
Why shouldn't we litter and what is littering?
Why don't we dump trash in the ocean?
What can we make from old or recyclable items?
I love some of the wonderful and thoughtful answers to these questions my preschool age son had while we enjoyed our Earth Day activities.
Looking for easy to print activities, and inexpensive problem-based challenges?
We have you covered…
Click below to get your quick and easy STEM challenges.
EARTH DAY ACTIVITIES FOR KIDS
Click on the links below to learn more about how to set up each Earth Day theme activity with your kids!
MORE FUN ACTIVITIES FOR PRESCHOOLERS
Reaad more : Earth Day Date, History, Facts And Earth Day activities for all grades
EARTH DAY ACTIVITIES TO LEARN ABOUT HELPING OUR PLANET EVERY DAY!
Click below to get your quick and easy STEM challenges.
Make Seed Balls from Recycled Paper from Buggy and Buddy

Use Recyclables in a STEM Challenge from Buggy and Buddy

Learning About Different Plastics from Left Brain Craft Brain
Learning About Carbon Footprints from Kitchen Counter Chronicles

Simple Soil Science from Left Brain Craft Brain

Make an Earth Day Collage from I Heart Crafty Things
Talking About Recycled with Preschoolers from Stir the Wonder for Pre-K Pages

Make a Bug Hotel from Red Ted Art

Make Your Own Paper from Tinkerlab
Plant Seeds with Kids from Buggy and Buddy

Investigate the Impact of Humans on Ocean Animals from Rainy Day Mum

Oil Spill Clean Up Experiment from Kitchen Counter Chronicles
DIY Earth Moss Ball from Mother Natured

Go on an Outdoor Scavenger Hunt from Buggy and Buddy

Make Reusable Gift Wrap from Buggy and Buddy
PAPER MAKING KIT
Want your own paper making kit? I bought this one for my daughter for her birthday- excellent quality and lots of fun! It would make a great birthday gift (obviously- LOL!) and would be fun for classroom use too!