Jennifer Aniston And Brad Pitt's Body Language—Then And Now
Spoiler alert: Brad's as touchy-feely as ever.
In true celebrity fashion, a.k.a. when everyone least expected it, Jennifer Aniston and Brad Pitt sent the internet into a tailspin at this year's SAG Awards when they greeted each other backstage like THE chillest exes of all time. In one corner of the web, stans rallied for them to get back together, and in another, deniers stood their ground insisting these two were destined for friendship and friendship only (if that).
Regardless of the camp you've pledged your allegiance to, the bond between them is undeniable, says author and body language expert Karen Donaldson. In fact, it's what convinces her reconciliation isn't such an unusual thing to root for.
If you're giddy for another Pittiston (I just made that up but I'm sticking with it) sighting at this weekend's Academy Awards, you might want to take some notes about which ~signals~ to look out for. When you break it down, Jen and Brad's body language now isn't that different from what it looked like during their days as a married duo.
While it might not have been enough to keep them together the first time around, with two marriages, divorces, and 15 years of growth under their belts, who knows? Crazier things have happened at the Oscars.
12020: Jennifer's not quite shooting her shot.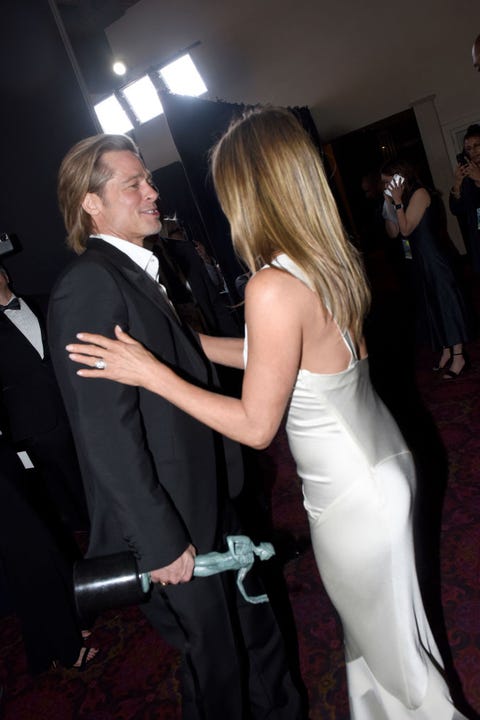 This SAG Awards moment makes clear Jennifer still cares about Brad, but it's not like she's making moves to get him back or anything, says Donaldson.
"She touches him in a neutral area—the shoulders—which tells us the touch is not romantic," Donaldson explains. What is worth noting though, is Jennifer's double-handed touch. It means her attention (even though you can't see her face) is 100 percent on this moment with Brad.
2But Brad's not afraid of getting personal.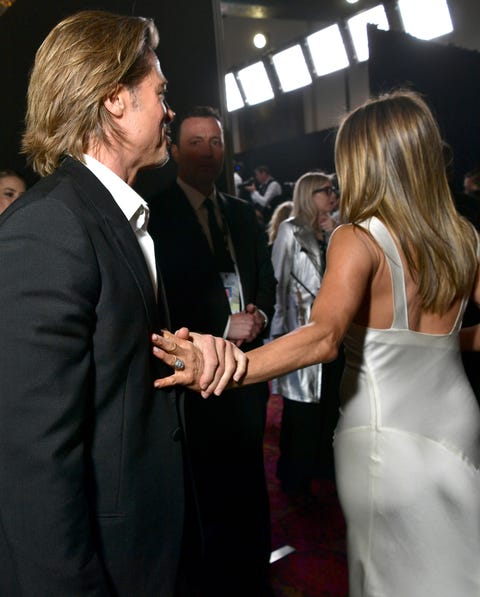 This is when their body language turns up a notch. "The area in which Brad is holding [Jennifer's] hand is a personal zone," says Donaldson. "This tells us there is a certain level of trust and familiar level of comfort and intimacy between the two of them." But, "touch can have various meanings depending on the social settings" she adds. Here, Brad is asking for attention, but Jennifer, according to Donaldson, is either over the moment or teasing him.3Jennifer and Brad enjoy each other's company.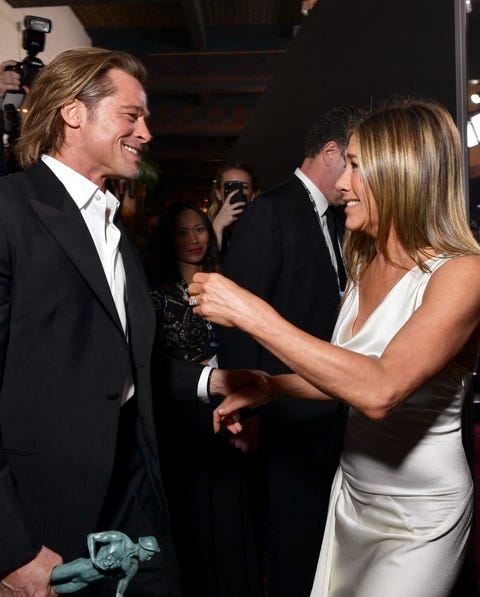 "Both Brad and Jennifer have fully engaged smiles on their faces, which tells us that they are genuinely enjoying this moment in time with each other," Donaldson shares. Brad wants his time with Jennifer—even if he only gets a few minutes. Donaldson knows this because of Brad's grip on Jennifer's wrist. And though I wish he'd loosen his grip, Donaldson points out Jennifer isn't pulling away. Instead, she says Jennifer is totally into making this memory with Brad.
42004: Jennifer and Brad wanted everyone to know how they felt about each other.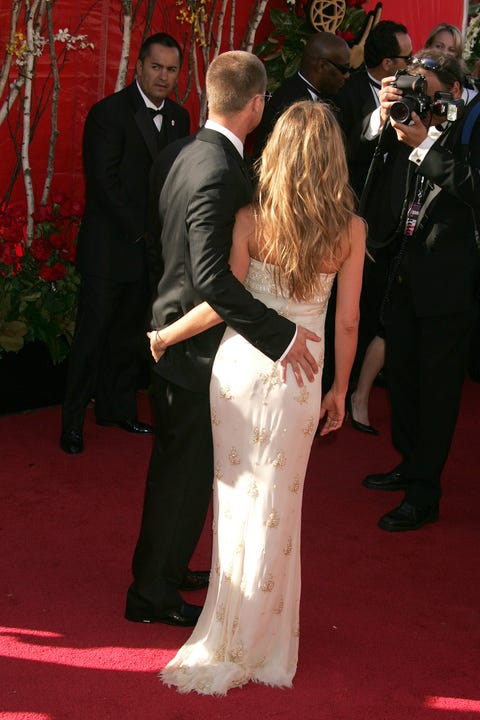 JEFFREY MAYERGETTY IMAGES
Brad's touchiness is nothing new apparently, and back in 2004 (a year before their divorce), Jennifer was giving it right back.
Playfully grabbing at each other's butts on the red carpet "showcases that they are establishing their claim on each other," says Donaldson. It's their outward way of telling people they're solid (for now) and all in with each other.52004: Their bond has been strong from the beginning.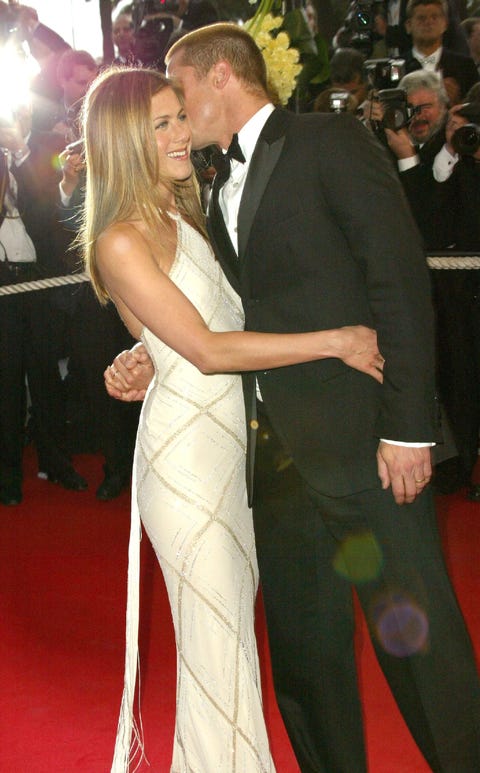 "Jennifer's eyes are engaged as she smiles at whatever [Brad] is saying to her, which is a sign of genuine love for [him]," Donaldson explains.
Their tight handhold, Brad's lean into Jennifer's space, and her arm around his waist aren't bad signs either. They're all possessive moves that point to the deep bond these two share, says Donaldson. Their connection is so strong that they've managed to carve out this intimate moment for themselves in a public space (much like they did at this year's SAG Awards).
62001: They were thriving in the intimacy department.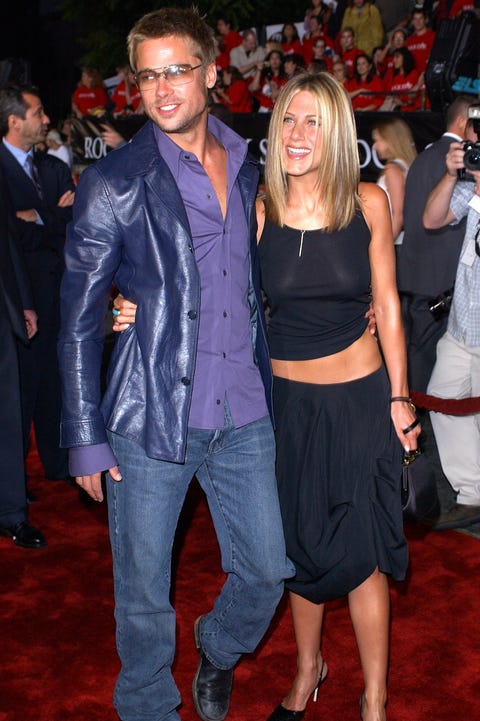 While it might seem like a casual side hug, Donaldson says this full-body contact means much, much more.
First, the angle of Jen's feet (pointing toward Brad) are a giant giveaway that, despite her attention on the cameras in front of her, Jennifer still has her man on the brain. Next, this super-close stance is "an intimate gesture that shows they wanted to spend as much time together as possible," Donaldson explains. And though quality time these days is a rarity, it doesn't mean they couldn't easily fall back into their old ways.
After all, current photos show Brad's still pulling Jen in closer after all these years.