School meals: Marcus Rashford 'proud' of community response
Footballer Marcus Rashford has said he "couldn't be more proud to call myself British" after the community response to his campaign to get free meals for children during the half-term holiday.
Councils and businesses have offered to provide food during the break for those who are entitled to free school meals.
The England striker told BBC Newsnight he was "overwhelmed" by the support.
It comes after a Labour bid to extend free school meals during the Covid-19 pandemic was rejected by MPs.
After a campaign led by Rashford earlier this year, the government changed its policy to allow 1.3 million children in England claim free school meal vouchers during the summer holidays.
But the government has ruled out extending free meals nationwide beyond term time, saying it has given councils £63m for families facing financial difficulties due to pandemic restrictions, as well as increasing welfare support by £9.3bn.
In Scotland and Wales, the governments have extended free meals during school holidays until Easter 2021, while in Northern Ireland they will be provided over the half-term break this month.
Despite the vote by MPs on Wednesday, councils from both sides of the political divide have agreed to supply vouchers for pupils including those in Manchester, Birmingham and Kensington and Chelsea.
Hillingdon Council, the local authority for Prime Minister Boris Johnson's constituency of Uxbridge and South Ruislip, said it will be offering free school meals to eligible children during half term.
However, one of the area's MPs, David Simmonds – who represents Ruislip, Northwood and Pinner – said the scheme "on its own is not going to get the help to people that need it".
He told Radio 4's Today programme that it was "a very complex situation" which was not addressed by a "one-size-fits-all response like free school meals", adding that more effective measures include the extension of Universal Credit and extra money for local authorities.
Another Conservative MP, Ben Bradley, who has backed the government, defended his position after being accused of stigmatising working class families in a tweet.
'Taken out of context'
Commenting on a school in Mansfield, Mr Bradley said that "one kid lives in a crack den, another in a brothel". Another Twitter user responded, saying that "£20 cash direct to a crack den and a brothel sounds like the way forward with this one", to which Mr Bradley replied: "That's what FSM vouchers in the summer effectively did…"
Mr Bradley said the tweet, which has since been deleted, had been "totally taken out of context".
He told BBC Breakfast: "I was merely making the point that there are kids who live in really chaotic situations, really difficult lives, where actually giving them an unrestricted voucher to spend on whatever isn't helpful."
He said the government had given money to local government which was better placed to provide targeted support, adding: "We need to wrap our arms, as a society, around those families."
Labour called for him to apologise for the tweet, with deputy leader Angela Rayner saying: "Notwithstanding the fact that the vouchers in summer could only be used to purchase food, this stigmatisation of working class families is disgraceful and disgusting."
Conservative MP Robert Halfon, who voted in support of extending free school meal provision, called on Boris Johnson to meet Marcus Rashford to come up with a long-term strategy.
He told BBC Breakfast: "It may be that they don't agree with everything that Marcus Rashford is proposing, but it would give us a chance to come up with a long-term plan to combat child food hunger once and for all."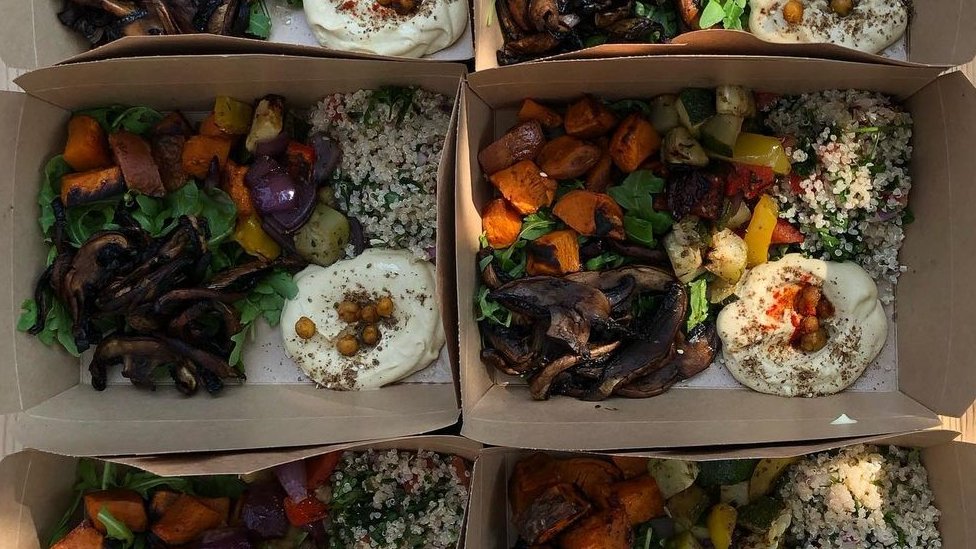 Nicola Mason, headteacher at the Chase Terrace Academy in Burntwood, Staffordshire, praised the Conservative-led county council in her area for providing vouchers over the holiday saying it was "absolutely the right thing to do".
She told the Today programme: "Over the pandemic, it's definitely necessary. There are so many families that have found themselves in a crisis position where they can't feed their children as well as they could before."
Liverpool Mayor Joe Anderson said the council's decision to back the campaign would provide meals for 19,800 pupils in the city, while Conservative Mayor of the West Midlands Andy Street said the government should have made "a clear decision" on whether it would or would not fund free school meals during the holidays "well in advance".
Fish and chip shops, pubs, restaurants and cafes are among the hospitality venues to offer free meals.
Rebecca Horton, who is owner of the Taste Sandwich Bar in Dingle in Liverpool, said she signed up to Rashford's campaign because she comes from a deprived area and wanted to support her community.
"I see families struggling, I see children hungry – it was an absolute no brainer for me to jump on the bandwagon, rally round and organise something," she told the Today programme.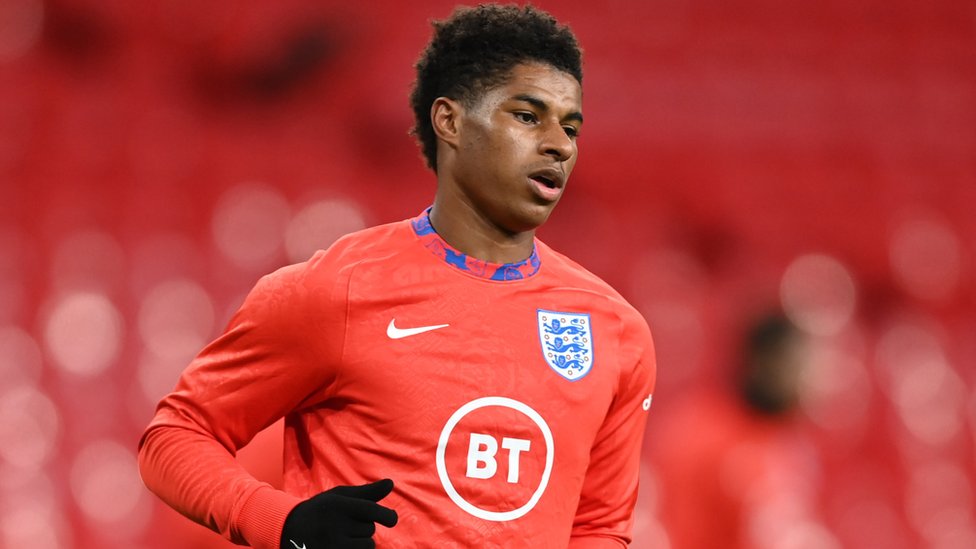 Rashford, who became an MBE earlier this year, said: "Even at their lowest point, having felt the devastating effects of the pandemic, local businesses have wrapped arms around their communities today, catching vulnerable children as they fell.
"I couldn't be more proud to call myself British tonight."
He added if people wanted "to talk about 'superstars' and 'celebrities'" they should look no further than his Twitter feed, where he has been sharing messages from businesses and councils offering to help.
Rashford has been hailed a hero with celebrities and politicians praising his campaign, although some Conservative MPs have accused him of "virtue signalling".
Ex-England striker and Match of the Day host Gary Lineker tweeted: "Extraordinary from a remarkable young man."
Fellow Mancunian Tim Burgess, lead singer of The Charlatans, said: "Wow, Marcus Rashford is a true hero of our times. So many MPs should feel shame over the fact that a footballer is helping the needy, more than they are."