Riya Chakraborty has shared a screenshot of the conversation between Sushant Singh Rajput and her. It is seen in this screenshot that Sushant was not happy with his sister Priyanka's behavior. Sushant says that Priyanka is provoking her roommate Siddharth Pithani.
Sushant singh rajput case : Rhea shares whatsapp chat screenshots
Rhea Chakraborty, the main accused in the Sushant Singh Rajput case, has shared a screenshot of the conversation with Sushant Singh Rajput. In the screenshot of this WhatsApp chat, Sushant is talking about his sister Priyanka's behavior with Riya. Sushant's family has accused Riya of abetting Sushant to suicide.

Riya has shared these screenshots with the media. In this chat, Sushant is telling Riya that his sister is faking his friend and roommate Siddharth Pithani. The chat begins with expressing gratitude to Sushant Riya and his brother Shouvik. Sushant writes in this chat, "Your family is very good. Shouvik is kind and you too, you are mine, you are the right reason for my change which gives me world-class relief. Behind this change. This is my It would be a pleasure to have people like you around. Give me happiness as my friend. "
In her next message to 
Rhea
 , Sushant says, "You smile, you look good. I am trying to sleep now. I hope I too have dreams like Jamila. Will it be amazing? Bye." Riya wrote in response, "Haha … sleep my dear boy … I will call you after landing the flight and hope you will land on the moon … sleep sweet baba boy."

Priyanka was provoking Siddharth Pithani
after which Rhea messaged to ask Sushant's condition. Sushant replied, 'I am not good. .My sister is now provoking Sid bhai. So that, distracting from this whole thing (the same thing that you and I are leaving behind), it should come to me that I gave them a financial commission. This is very sad.

See the other part of chat here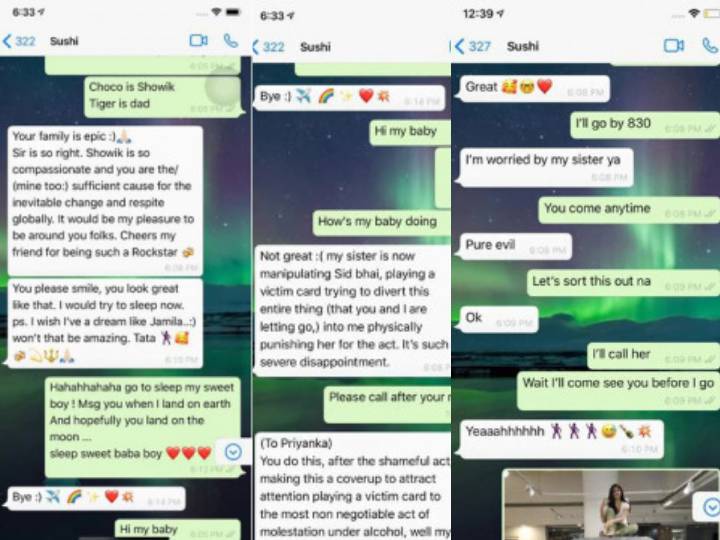 Sister used to play Victim Card

Sushant further wrote, (to Priyanka) "You do this, for this fallen act, you are trying to hide it by playing a Victim Card game in a drunken stupor. So my dear sister, our mother there There is God, who taught me and according to that learning you have committed a crime. If you do not see anything due to your ego, then God bless you because I am not afraid and I will continue to do that work I will continue to do what has been done so far. I will definitely bring change in the world. Let God and nature decide whose work is right. "