A prayer for Health
Daily life is littered with all sorts of sickness. Flu season hit my household this week, and according to the CDC, most of United States is in the midst of a "high activity" flu season. One does not realize the luxury of the average day until it's besieged and de-railed by influenza. Life comes to a pause, and workloads pile up.
"Dear friend, I pray that you may enjoy good health and that all may go well with you, even as your soul is getting along well." (3 John 1:2)
If our bodies and minds are ailing at such a high rate, it shouldn't surprise us that our spiritual lives are unhealthy as well. LifeWay Research released a report in April of 2017 that states "more than half of Americans have read little or none of the Bible." Though we don't have full control over flu germs, depression, and terminal disease, we can choose to read Scripture daily.
Let's pray for complete health, mind, body and soul. To seek His counsel in all things, and welcome the wisdom of the Holy Spirit into the part of our hearts that need healing. A healthy life is comprised of more than a fit physically body free of injury and illness.
A Prayer for Complete, Good Health
Father,
Praise You for this, and every day that we get to wake up this side of heaven. Each day is laced with purpose, and we ask for Your wisdom and guidance through every one. Help us to live each day well, and for Your glory, from start to finish.
Thank You for Your Word, which breathes life into our tired souls and minds. You promise to meet us there, in study and prayer. Thank You for the sacrifice Jesus made on the cross, paying with His life for our ease of access to our Heavenly Father through prayer and Scripture. Each biblical story and truth weave in and out our lives in Your perfect timing.
Father, You remind us throughout Scripture that You are faithful to Your people. Jeremiah 33:6 says, "Nevertheless, I will bring health and healing to it; I will heal my people and will let them enjoy abundant peace and security." So often, as in the Old Testament, we rebel, neglect to care for ourselves as You do, and end up tired and sick. But Father You are faithful to enwrap us in Your healing love each time we turn back to You. 
Forgive us for neglecting to care for the life You have entrusted us with. The life that You have purposed specifically to do more than we can ask for or imagine. When we go our own way, we wear ourselves down, physically and mentally. Other times, we train physically but neglect our psyche. We often neglect our spiritual life.
Father, strengthen us to hold captive the joy You bless our lives with daily. Help us to walk freely in Your love. For as Paul reminds us in 1 Timothy 4:8 (VOICE), "Although training your body has certain payoffs, godliness benefits all things–holding promise for life here and now and promise for the life that is coming." Send us more of Your Holy Spirit, to help us focus on Your Word daily. Give us hearts like Jesus.
Give us the wisdom to seek You first each day, before each decision. It's often the little thoughts and daily decisions that lead us into a sudden spiral of bad health. Enlighten us and guide us through Your Word. Let our hearts burn for more of You each day.
Help us endure the pain of chronic conditions, some of which will not find healing in this broken and sinful world. We know that You work all things for good, but in those moments of chronic pain and suffering, it can be impossible to understand Your perfect and just hand in it all. 
In Jesus' Name, Amen. 
Bible Verses for Good Health & Healing
"Heal me, O Lord, and I will be healed; save me and I will be saved, for you are the one I praise." ~ Jeremiah 17:14
"Is anyone among you sick? Let them call the elders of the church to pray over them and anoint them with oil in the name of the Lord. And the prayer offered in faith will make the sick person well; the Lord will raise them up. If they have sinned, they will be forgiven." ~ James 5:14-15
"So do not fear, for I am with you; do not be dismayed, for I am your God. I will strengthen you and help you; I will uphold you with my righteous right hand." ~ Isaiah 41:10
"But I will restore you to health and heal your wounds,' declares the LORD" ~ Jeremiah 30:17
"Therefore confess your sins to each other and pray for each other so that you may be healed. The prayer of a righteous person is powerful and effective." ~ James 5:6
"Then they cried to the LORD in their trouble, and he saved them from their distress. He sent out his word and healed them; he rescued them from the grave. Let them give thanks to the LORD for his unfailing love and his wonderful deeds for mankind." ~ Psalms 107:19-21
"Praise the LORD, my soul, and forget not all his benefits – who forgives all your sins and heals all your diseases, who redeems your life from the pit and crowns you with love and compassion." ~ Psalms 103:2-4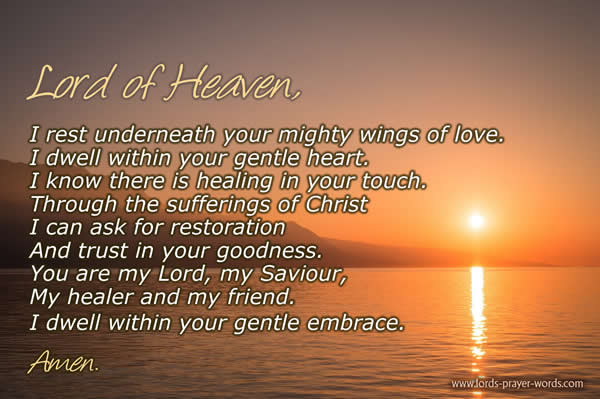 This page features several inspiring prayers for good health, healing, wellbeing and protection. The first prayer concerns the health of our whole being – mind, spirit and body – and is suitable for personal devotion or for giving to a loved one, family member or friend. This is followed by a short video meditation to receive God's healing and strength. There is also the famous prayer "The Lord is my Shepherd" which reminds of Gods safety, care and protection.
A prayer for health
Lord, today I offer You my mind May I seek the mind of Christ in all things Freed from anxiety and fear Filled with wholeness and wellness Today I offer You my spirit In You I have been born again Your Spirit dwells deeply within me My Spirit is alive in You Freed from depressive thoughts and critical thinking Today I offer You my body May it be a temple dedicated to You O Lord A place for You to live and reign May I be mindful of what I eat and drink May I be watchful of my sleep and rest Lord, right now I offer you my whole being I present my mind, spirit and body to You Come and take me as a living sacrifice This day and everyday May I ever glorify and worship You Amen.
Short prayer for Health and healing
(a modern prayer for health and restoration)
Lord of Heaven, I rest underneath your mighty wings of love. I dwell within your gentle heart. I know there is healing in your touch. Through the sufferings of Christ I can ask for restoration And trust in your goodness. You are my Lord, my Saviour, My healer and my friend. I dwell within your gentle embrace.
Amen.
The Lord Is My Shepherd | Prayer for Health
The famous prayer of King David who declared that God was the restorer of his soul:-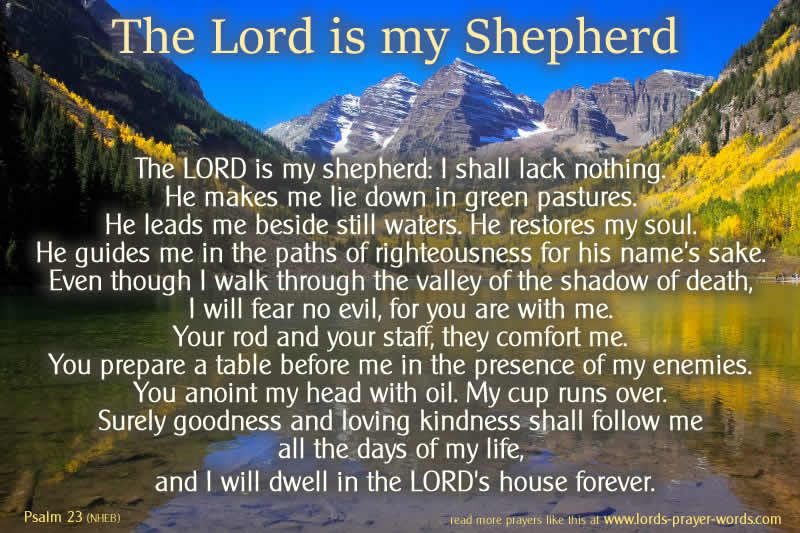 Dear friend, I pray that you may enjoy good health and that all may go well with you, even as your soul is getting along well
 3 John 1:2 (NIV)


Two traditional prayers for health
A Catholic Prayer for Healing
Lord, You invite all who are burdened to come to You. Allow Your healing hand to heal me. Touch my soul with Your compassion for others. Touch my heart with Your courage and infinite love for all. Touch my mind with Your wisdom, that my mouth may always proclaim Your praise. Teach me to reach out to You in my need, and help me to lead others to You by my example. Most loving Heart of Jesus, bring me health in body and spirit that I may serve You with all my strength. Touch gently this life which You have created, now and forever.
Amen.
(source: The Franciscan Prayerbook)
Thanksgiving for the Restoration of Health
(A Short Episcopal Prayer) Almighty God and heavenly Father, we give thee humble thanks because thou hast been graciously pleased to deliver from his sickness thy servant N., in whose behalf we bless and praise thy Name. Grant, O gracious Father, that he, through thy help, may live in this world according to thy will, and also be partaker of everlasting glory in the life to come; through Jesus Christ our Lord.
Amen.
Prayer for Health and related Blessings
Here are 5 prayers seeking blessings of physical health, emotional health and mental health to bring us great relief and freedom from the struggles.
May God, the Creator of all, bless you and your family with good health, protection and strength. May God, the Holy Father take away all your health related problems and worries and the Holy Spirit give you peace, freedom, strength and protection.
Amen.
You may also like to click on the links below to reach to the desired section instantly:
A Prayer for Good Health
Lord, today I present myself before You.
Please fill my mind, body and soul with good health, wholeness and wellness forever.
Almighty God, I now offer you my whole being
I present my mind, spirit and body to You
Please shine your grace on your child.
Please come and take away my disease (…………..) and miseries.
This day and every day, May I sing your glory and worship You
Today I offer my mind, spirit and body to You
May it be a temple dedicated to You
May I seek Your divine blessings and be freed from anxiety and fear
O Dear God, You are my Lord, my Saviour, My healer and my friend.
Please heal me, I dwell within your gentle embrace.
Lord, as I ask for restoration, please provide relief from the sufferings
I trust in your grace and goodness.
I rest beneath you mighty wings of love.
Amen.
Short Prayer for Good Health
O Lord, kindly bless me with good health and a sound mind, so I may continue praising you
Dear God, I ask of your mercy, please shine your grace on me and make me healthy spiritually, physically, and emotionally.
Please grant me good health, Lord God, so that I may serve others and glorify your name.
I may not be feeling well but I know I'll get better with your grace and mercy.
Surround me with your love, so all aspects of my health would be on the right track.
O Creator, I don't feel comfortable and I feel sick, but with your healing touch, I know I'll recover fast and be just fine.
Bless me, O Lord with good health, and heal all the troubles of my mind, spirit, and body.
Amen.
Prayer for good health and relief from Depression and Anxiety
O God Almighty, I ask of your healing and mercy
Dear Lord, I request you to please take away all my miseries and worries, so that my mind may be free from anxieties.
Dear Creator, I ask for your healing touch for my mental healing,
Bless me with good mental health, as my mind suffers from attacks of depression and anxiety.
Heal me spiritually, physically, and emotionally.
Thank you because your peace that surpasses our limited understanding
Take away the pain and anguish in my heart.
Lord. I pray for healing of emotions, please strengthen me mentally and make my heart whole again.
You are the Almighty and nothing is impossible for you — I pray for spiritual healing upon my illness and I know that I am going to strong and healthy as your power infuses my body, mind and soul.
Having trust in your goodness and kindness, I ask for restoration. Please free me from worries, anxieties and tensions.
Please fill my heart with faith in your love, and I gracefully accept your healing so that I can live in peace and joy
Amen
Prayer for Health and Protection
Holy Father,
Please hold me, for I am very weak and fearful now
Bless me with your holy protection always.
I trust that your strong arms will keep me safe.
I seek your mercy and divine grace
I wait in you, I trust in your healing for my body.
Thank you that you hold me safe.
Almighty God, please cover me with your mighty hands.
My life is a gift from you and Your hand is upon my life.
Your heart is full of love and mercy.
Put Your hand of protection and health over me, always.
Let your grace and blessings hold all things in balance in my life.
Forgive my sins and give me good health and protection from disease
Bless me with joy and peace so that I can walk free once again.
I now feel Your graceful presence around me.
Please make me free from any fear, knowing that you are with me now.
Prayer for Good Health and Strength
Dear God, bless me and my family with good health and physical strength.
Give me inner strength to battle the evil effects of depression, loneliness, unworthiness, and hopelessness.
Shine Your Heavenly Light down upon me (or my family or name of the family member). Lord, please guide us to find peace, happiness, and joy in our lives and within ourselves."
Amen.