Rahul Gandhi again attacked Modi government on failure in dealing Corona Pandemic, said- Government is lying
Rahul Gandhi has already put the BJP government in the dock over this matter. Recently, Rahul had said that if Kovid-19 spreads at this speed, by August 10, the cases of infection will go beyond 20 lakh.
New Delhi: Congress leader Rahul Gandhi has once again targeted the central government over the Corona infection and deaths from it. Rahul has alleged that the BJP government is lying about the Corona virus infection and the death toll due to it. Rahul Gandhi said that Kovid is 19 or, GDP or Chinese infiltration, BJP has institutionalized the lie.
All other countries including Pakistan started worse but now improving in Pandemic, their graph going down but India still going up in corona cases, never showed any improvement and PM Modi keeps praising his own governemnt, and tries ti avoid topic and Media plays the trick of diversion from topic
Rahul Gandhi said that this confusion spread by the BJP will be broken soon and India will have to pay its price.

Rahul Gandhi tweeted and said, "BJP has institutionalized the lie.

1-By reducing test number of Kovid 19 and reducing the number of deaths due to it

2- By adopting a new method for calculating GDP

3 – Scaring the media on Chinese intrusion
[amazon box="B07H97FRX5″ "small"]  

This confusion will soon be broken and India will have to pay its price.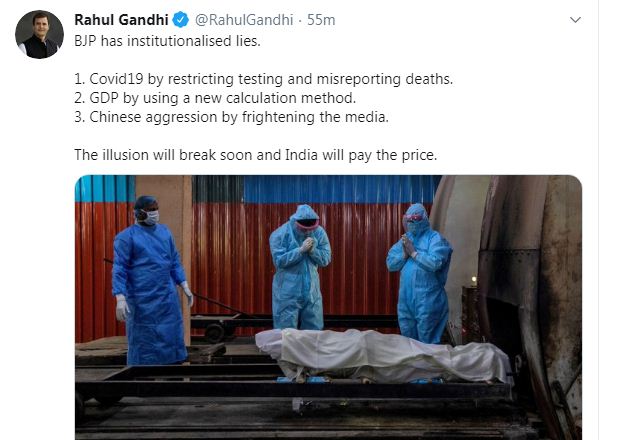 The country has the highest number of 39 thousand new cases in a day,
after America and Brazil, now every day the highest number of cases are coming to India. The number of infected in the country has now crossed one million. According to the latest statistics of the Health Ministry, 10 lakh 77 thousand 618 people have been infected with Corona till now. Of these, 26,816 people have died, while 6 lakh 77 thousand 422 people have also been cured. In the last 24 hours, 38 thousand 902 new cases of corona virus were reported and 543 deaths occurred.
The third most affected country in the world,
India is the third most affected country in the world according to the number of corona infected. The United States is the most affected by the Corona epidemic after Brazil. But if we talk about infected cases and mortality per 10 lakh population, then India is much better than other countries. More cases than India are in America (3,833,271), Brazil (2,075,246). The pace of increase in corona cases in the country also remains at number three in the world.